Hoops Academy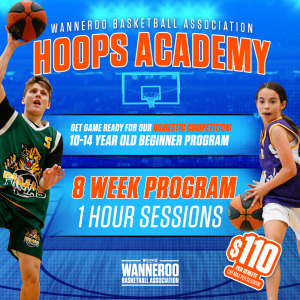 2022 Term 3 Hoops Academy
Wednesday's 5:30-6:30 pm
*Registrations CLOSED*
Click here to register your interest for future terms
New to the game of Basketball? (NOT FOR PLAYERS THAT ARE PART OF A DOMESTIC CLUB)
Are you too old for Aussie Hoops?
Want to learn some skills and drills before joining a competition?
Hoops Academy is a new program designed to help inexperienced players learn the skills, rules and concepts of the game, before being thrust into our domestic competition. Sometimes playing a game for the first time can be overwhelming. You need to learn the rules, terminology and basics all why trying to compete and deal with the unwanted pressure that competition can sometimes bring.
Hoops Academy aims to prepare players for competition by giving them the basic skills needed to develop confidence in their ability to play and enjoy the game of basketball.
Hoops Academy is for players born between 2008 and 2012. It is a fun inclusive environment where players are encouraged to try their best without pressure.
The content and curriculum for the program is set by the Wolfpack's Coaching Coordinator and men's NBL1 assistant coach Jesse Pence as well as Basketball Development Coordinator and NBL1 American Import Jonathan Wade.
There are only 30 places per term so places are limited!
Session details are as follows:
Start Date: Wednesday 20th July 2022
End Date: Wednesday 7th September 2022
Time: 5.30 pm – 6.30 pm
Year of birth: 2008 -> 2012
Venue: Lake Joondalup Baptist College Courts 1 & 2
PLEASE NOTE

This program is only for players that are NOT part of a Domestic Club.
Click the link below to register.
REGISTER HERE