Wolfpack Cubs Camp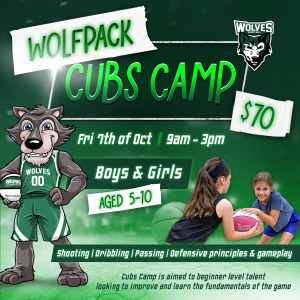 October 2022 Wolfpack Cubs Camp
*REGISTRATIONS OPEN*
The Wolfpack Cubs Camp is designed to give kids aged 5-10 an opportunity to learn the fundamentals of dribbling, passing, catching, shooting, rebounding and defence in a safe and fun environment.
The camp will be run by NBL1 Men's star player Jonathan Wade. We will also have other NBL1 players from the men's and women's teams in attendance as coaches. All camp members will gain valuable skills and training tips as well as having fun!
To keep everyone engaged and trying new things, all camp participants will have the opportunity to be involved in a variety of activities throughout the camp. Some of the new features of our Cubs camp will include our very own 3v3 tournament, video learning sessions and entertainment in the Wolves Den!
With our camp coming up soon it will be LIMITED spots available, so make sure you get in quick to register your child and avoid missing out!
Campers will need to bring the following to the camp:
- Suitable clothing/footwear
- Water bottle
- Packed lunch and snacks
- A suitable Basketball
When: Friday 7th October 2022
Time: 9am-3pm
Where: HBF Arena
Cost: $70 per person
For further information, please email welcome@wolves.asn.au.