The Wolfpack Story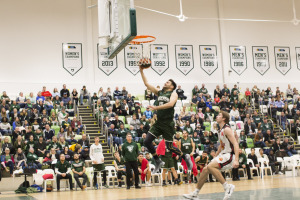 Established in 1983, the Wanneroo Basketball Association is the most successful and professionally operated basketball Association in Western Australia. Based in the heart of the northern growth corridor, Joondalup, our popular and high-profile club has been in existence for over 35 years.
The Association has grown substantially, becoming a large, integral and highly influential organisation within the northern metropolitan community. In late 2017, the Association built and relocated from the iconic Joondalup Basketball Stadium to the new state-of-the-art HBF Arena, a bespoke facility for Basketball, a genuine home for the future.
Through its extended representation in Junior, Senior and representative competitions, the Association has more than 4,000 registered players (members) through what is seven large, volunteer governed affiliated domestic clubs; with numbers bolstered by the many thousands of spectators who pass through the stadium every week of the year.
The Wanneroo Basketball Association aspires to be 'the destination of choice for Basketball', welcoming and growing by 800 new players per year, as a notably progressive, inclusive, accessible and affordable sporting option for the WA community.
The pinnacle of the Association is the NBL1 Men's and Women's teams. The Joondalup Wolves, as they are proudly known, have been in existence since 1983 and have experienced much success in their time, including 10 State Championships between Men's and Women's teams.
The club is committed to sustainable success, and prides itself on a high-performance culture, from junior ranks all the way through to the professional levels of the sport and business.
The Wanneroo Basketball Association is a destination for physical health, participation, personal development and social connectivity. Management's objective is to position the club as a true destination for all, a genuine hub of the Perth community and our growth projections remain significant, as does our exploration of new models and stadia to service our demand.
Our commitment to further, sustained growth is evident as we evolve our organisational structure to deliver more quality outcomes into our existing member base, as well as boosting our business and basketball development roles and activities.
Our club possesses an inherent belief and commitment in what we do, the quality of our service and the strength of our programs and products.
Go Wolves!
If you want to get involved, contact the Joondalup Wolves on 9300 1325 or at welcome@wolves.asn.au.
Welcome to the Wolfpack!