Careers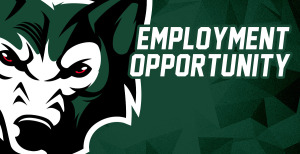 The Wolfpack is always looking for casual staff to assist us in a number of areas in our association. Lately we have (like everyone) been hit with staff shortages due to COVID and need a constant, reliable team of people to join our casual pool of staff. As our membership and offerings grow, so too does our need for human resources. If you are interested in an ongoing role or just one to help out short term, we would love to have you join the Pack.
Please find below a list of positions that we are actively recruiting for. If one or more of these suit you please email recruitment@wolves.asn.au.
Position Title: NBL1 Games Operations Staff
Status: Casual
Reports to: CEO/Operations Coordinator
Available Roles:
- Games Commissioner
Welcome and assist visiting teams and officials
Assist statisticians and score bench with league requirements
Usher referees to and from the playing court
Ensure league compliance on all game night matters
Register all post game requirements with the league
Manage any game night issues
Liaise with NBL1 staff and league as required
- Media Assistant
Update and monitor Wolfpack social media during each game
Communicate with and update the NBL1 Digital and Content Coordinators
Liaise with photographers, commentators, and camera operators
Run the post-game press conference
Interview coaches and players as required
Take photos as required
Arrive 1 hour before tip-off
- Camera Operator
Operate the provided video camera in order to film the game in accordance with NBL1 requirements
Coordinate all live stream needs
Ensure all equipment is set up and functioning
Work with commentators to ensure live stream is of the highest standard
Arrive 1 hour before tip-off
- Bar Staff
RSA Qualification required
Serve patrons, VIP's and guests and manage bar operations
Stock fridges and keep bar area tidy
Provide excellent customer service
Arrive 1 hour before tip-off
- Ushers
Greet patrons upon entry
Help assist and guide spectators to seats
Provide excellent customer service
Check tickets and pass outs
Check COVID requirements
Arrive 1.5 hours before tip-off
- Door Staff
Responsible for ticket purchase and collection
Checking in VIP's, Guests and visiting teams
Provide excellent customer service
Arrive 1 hour before tip-off
- Set-Up and Pack-Down
Game day availability required for full set-up before the game
Stay after the last game and help pack-down
Assist with any set up and logistical requirements on the night
Set up corporate boxes and seating
Set up pop up bar and entry areas
Set up signage and equipment
- Birthday Party Host
Host Wolfpack Birthday Parties
Usher children and families to the birthday party area and reserved seats
Assist with birthday child photo with NBL1 players
Usher birthday child to players area to run out with team
Assist in the set up of table and birthday party needs
----------------------------------------------------------------------------------------------------
Position Title: Games Operations Staff
Role: Games Manager/Front Desk/COVID Marshal
Status: Casual / Hobby
Reports to: CEO/BOM/CPM/CRC
Direct Reports: Officials/Referee Instructors
Overall Position Objective
To be the primary point of contact for teams and patrons on game day for all Wanneroo Basketball Association Domestic Competitions and WABL.
Form relationships with various Domestic & WABL Competition stakeholders and facilitate effective administration of Domestic and WABL Competitions on game days (weeknights and weekends) across all Wanneroo Basketball Association venues.
For the full Position Description, please click here.
To apply for, or inquire about any of the above roles, please email recruitment@wolves.asn.au