2 Day Holiday Camp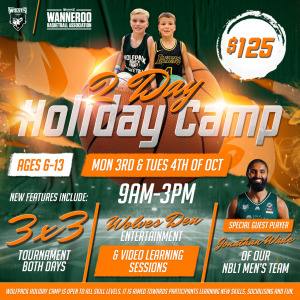 October 2022 School Holiday Camp
*REGISTRATIONS OPEN*
The two-day holiday camp is all about working on basketball skills and having fun with the game of basketball. For the past 2 years with star men's player Jonathan Wade as the head coach, the two-day Wolfpack School Holiday camp has been a huge success. The kids have always been able to come enjoy the game of basketball, learn new skills and have fun with their friends. However, this year we will be taking it to a new level with new exciting features for the kids to have an even greater experience here with the Wolfpack.
The October camp will be held over two days from 9 am -3 pm jam-packed with amazing opportunities for learning and growth with our incredible Wolfpack coaching staff. It is aimed towards all skill levels between 6-13 years old. If you play domestic or have never played the game of basketball before this camp is for you. Wolfpack NBL1 player Jonathan Wade will be joined by other NBL1 men and women's players. These are some of the top players in Western Australia, and they are very excited for you to come and learn, and have FUN!
The camp will have a focus on ball-handling, shooting, passing, defence and gameplay principles. Within the camp, we will have our very own 3v3 tournament, video learning sessions and entertainment upstairs in our Wolves Den!
Campers will need to bring with them each day:
Suitable clothing/footwear

Water bottle

Packed lunch and snacks

A suitable basketball
With our camp coming up soon spots will be LIMITED. Make sure you secure your spot today so you do not miss out on learning from the best in the game and having some extreme FUN!
When: Monday 3rd and Tuesday 4th of October 2022
Time: 9am – 3pm
Where: HBF Arena
Cost: $125 per person

For further information, please email welcome@wolves.asn.au.