Domestic Development Program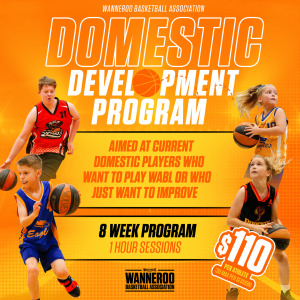 2022 Term 3 Domestic Development Program
Tuesday's 5-6 pm (HBF) - Closed
Wednesday's 6:30-7:30 pm (LJBC) - Closed

To register your interest for Term 4, please click here.
The Wanneroo Basketball Association's Domestic Development Program (DDP) is aimed at providing development opportunities for current domestic players who want to take their game to the next level. If you want to play WABL but are unsure if you are ready, or need to sharpen up your skills; then DDP is for you.
Are you a lower-grade Domestic player who wants to play A-Grade? Maybe you just want to improve so you can enjoy competing and succeeding at whatever level you desire - DDP can help. If you do not play on a domestic team and don't have any basketball experience, DDP is not the program for you – you should sign up for Hoops Academy instead.
Domestic Development Program is for current domestic players both male and female born between 2006 and 2012.
DDP introduces more professional training drills and techniques, helping to bridge the gap between domestic and representative basketball for athletes.
DDP athletes work on skill and concept progression each week. The content and curriculum for the program is set by the Wolfpacks Basketball Player and Coach Development Manager, and NBL1 Men's Head Coach, David Morrell.
Spots are limited, so sign up fast!
Session details are as follows:
HBF Session (Closed for Term 3):
Start Date: Tuesday 19th July 2022
End Date: Tuesday 6th September 2022
Time: 5 pm – 6 pm
Year of birth: 2006 -> 2008
Venue: HBF Arena Court 1
REGISTER FOR THE HBF SESSION HERE
------------------------------------------------------------
LJBC Session (Closed for Term 3):
Start Date: Wednesday 20th July 2022
End Date: Wednesday 7th September 2022
Time: 6:30 pm – 7:30 pm
Year of birth: 2009 -> 2012
Venue: Lake Joondalup Baptist College Court 1 & 2
REGISTER FOR THE LJBC SESSION HERE