Referee Courses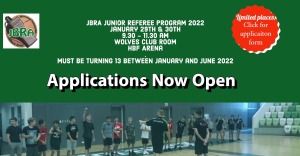 The next JBRA Junior Trainee Referee Program is now accepting enrolments for April cohort, there are only 16 places. If you know of someone interested, please let them know! Applications close 27th April, 3 pm.
Theory Session (MUST BE ATTENDED)

Saturday 7th May 2022 HBF Arena Wolves Clubroom 9.30 am - 1.00 pm. Please bring a drink and something to eat.
Practical Sessions
6 Weeks of on court training for which a roster will be issued indicating the time of your training. All on court training will be held at Mater Dei in Edgewater (as per WBA April 2022 - subject to change)
You need to be a minimum of 13 years of age or turning 13 between January and June 2022.

Both the theory session and practical sessions must be attended in order to complete this program.

Program cost: $95.00 which includes course notes, your green shirt upon completing all theory and practical assessments and your whistle. JBRA will provide you with an on-court trainee shirt.
CLICK HERE TO ENROL